It's All About Content – That's All The Internet Contains
A Content Machine
Is your content online? Every business has content beginning of course with your name, address, and phone # (NAP). This NAP appearing on any web page is called a citation and becomes more valuable when accompanied by your URL, a description of your company, and any other detail or media files you can include.
Sounds simple right? The catch is that Google and other search engines only reward companies whose content they can trust. They gain confidence in data and content when it is validated by other trustworthy content. You must be certain that all of your online data, especially your NAP, is exactly correct.
Consistency and volume of core data gives the search engines greater confidence in your content so they will show it earlier and more often. You will enjoy this superior visibility for as long as the search engines find your content credible. To maintain this status you must constantly guard against erroneous data coming back to haunt you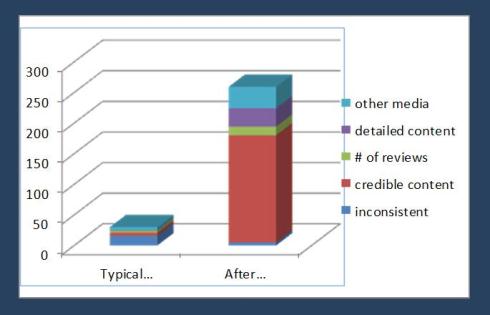 Our mission is to create outstanding visibility which in turn leads to targeted traffic. We do this by gathering details, developing original content and distributing it to over 175 websites and applications. This diagram shows a typical online footprint without optimization and what it looks like after Early Often Now.
It's time to gather up all that content you've been filing away for years. Allow it to see the light of day online and you will reap the benefits.
Find out the condition of your online footprint with this free report. You should know the level of confidence Google has in your content. You can also contact us to learn more about online marketing and to learn how your company can appear Early and Often in SERPS.