About You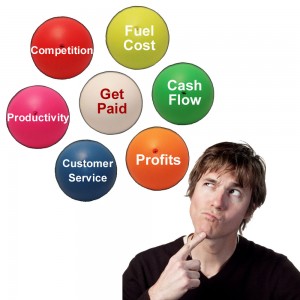 As a business owner and captain of the ship you regularly face challenges that, on the surface, appear unrelated to marketing.
Typically there's a problem to solve and the best way to do that is to make a decision based on accurate information. Fortunately the internet and Google in particular, makes that information instantly available.
As a search engine Google gives us tremendous capabilities to solve problems of any type.
Consider the case of the H1N1 flu virus in 2009 when the Centers for Disease Control enlisted thousands of doctors and highly trained specialists to pinpoint cases. Their efforts were too slow and ineffective. Google, however, was able to produce accurate data instantly.
The Google search engine has become the go-to resource in our lives whenever we have a problem to solve. But Google is much more than just a search engine. And some problems are not easily solved by a search engine alone. So Google offers well over 100 tools, many of which are capable of producing high value business solutions.
Google is just the tip of the iceberg when it comes to the wealth of resources available to businesses on the web. I wanted to use this page to illustrate some of the possibilities and hopefully stimulate your imagination.
This is pertinent to marketing because digital resources are usually hidden inside marketing applications. Those of us who use an assortment of web based tools are able to easily imagine an alternative use case. And that scenario also works in reverse.  Applications, for example an ATM machine, which are developed for one purpose, are often transformed into marketing tools.
Digital tools enable you to solve your own most pressing business problems and you can also solve your customer's problems. And that, of course, would end up as a win for you.
The most fundamental question businesses need an answer to is:
Are they buying what I'm selling?
No less than six Google tools will deliver your answer along with charts, graphs, forecasts, and insights…in seconds. They can do that because they have actual data drawn from the actions of real people.
The famous 19th century tycoon John Wanamaker once said "Half the money I spend on advertising is wasted; the trouble is I don't know which half." If he were alive today he would know. And that is why the real value of digital marketing applications is in their ability to capture and analyze data and then put that data to work.
But let's not get caught up in the hype over big data. Google and Amazon can afford it so I'm in favor of letting them make the investment. As small business owners all we need is data that is, in most cases, already under our roof.
You don't have to be a trucking company to capitalize on GPS data. And conversely you don't actually need GPS data to solve logistics problems. You can increase productivity, reduce fuel consumption, and provide faster and more efficient customer service with data from service logs, billing invoices, or sales inquiry records.
Customer sales and service data provides a snapshot of routes which can be optimized using free tools available from Google. You can take this further to determine location data for slow paying customers or conversely zip codes of more lucrative clientele. And social media tools can be applied to get customer input and to easily find out how others like you are solving problems.
And that brings up a step you can take right now to start your own digital revolution. LinkedIn is a social network that has tremendous functionality. It's a surefire way to complete the third leg of the customer relationship triple crown—Know, Like, and Trust. And besides helping with the trust factor it's a listening post where you can gather intelligence.


Hit this button to connect with me on LinkedIn. If you need details on how to leverage this channel send me a message or an email. I'll be happy to help.
According to the National Federation of Independent Business (NFIB) uncertainty is a factor in five out of the top ten small business problems.
You may not be able to do anything about uncertainty over government actions or the cost of health insurance but in almost every other case there are digital steps you can take to reduce the pain of these problems. The secret lies in your digital toolbox.
There are probably thousands of free or almost free digital applications available to small business. The problem is:
We don't know what we don't know!
That's why its important to begin activating your digital infrastructure. From a marketing standpoint it makes sense because even if you have no plans to do marketing–you still can if you want to. Without an infrastructure–you can't. And besides, your customers are already holding up their end–they don't really need you to get on board.
So with a solid digital Eco-system in place the only way you can truly know the functionality of your tools is to tinker with them. Sounds crazy, right? Blame Google and their brethren in the digital arena for not creating detailed instructions or offering support. The products are mostly free though. And with technology changing so fast companies don't want to make a significant investment in support.
There are two additional steps you can take to get on board the digital train.
1.) Subscribe to NoteLetter Now. It's a short informative email that keeps you abreast of developments that matter to you and your business. You'll find the opt-in box on the right side of this page.
2.) Check out our Get Started Now program. It's a customized program that does just what the name suggests and more. You'll have a formidable digital infrastructure that works right out of the gate.
1.) Your target audience will discover your content and be driven deep into your sales funnel
2.) You'll be in position to present compelling offers
3.) Your tools will be in place to close the deal.
With Get Started Now you get Visibility, Traffic, and Results.
Find out how to