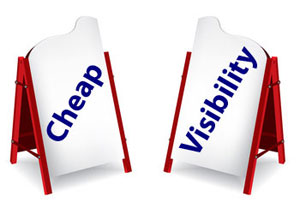 The sandwich board just might be the most effective marketing tool ever devised. It's a simple and inexpensive device that accomplishes 2 fundamental goals. It provides Visibility and it causes Action.
Sandwich boards have been used for centuries to convey messages of safety, public service, and marketing. As good as this tool is it won't work without Traffic.
Your most effective digital marketing tool, by far, is your website. It won't work without traffic either.
The fundamentals of marketing are the same as they've always been.

Create visibility for your product, service, company, or idea.
Generate traffic from a pool of qualified prospects.
Cause an action or response that completes your goal.

People Have Power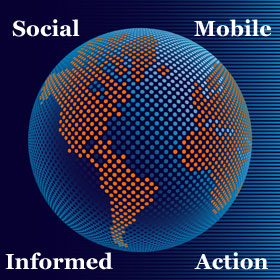 The ever widening gulf between traditional marketing and digital is complicated by the fact that consumer behavior has changed–dramatically.
Visibility is no longer a case of shouting from rooftops. Traffic is no longer automatic. And a favorable response is not guaranteed by claims of best price, stellar service, or long term value.
Digital channels have empowered people to think for themselves. We now have the tools of discovery at our fingertips so we no longer have to rely on marketers to tell us what we want and need.
The good news for business owners is that those same tools have enormous capabilities as marketing platforms. Companies that join their consumers in the digital world will reap the rewards. Those that don't won't.
The consumer journey refers to six stages people navigate throughout a buying process. In order to influence the journey you must be present and accounted for.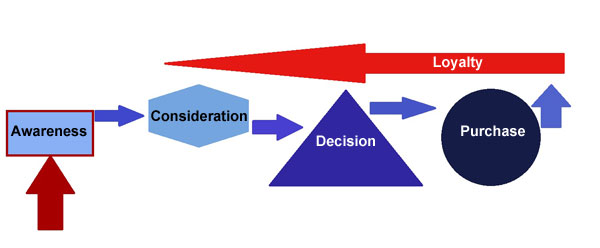 Awareness
Awareness is triggered by realization of a problem calling for a solution. Awareness of the problem triggers the journey. In order to proceed consumers must become aware of possible solutions.

Influence consumers at the awareness stage by first understanding how they go about finding a solution. What channels are your audience using to become informed? Which are they using to find a solution provider? Make yourself visible on these channels.

Awarenes Channels
Typical Offline Channels
Typical Online Channels
Advertising
Referral Network

Search Engines
Social Media
Signage
Brand Visibility
Forums
Blog Posts
 This page is about The Fundamentals. For more actionable tips and to learn more about how to integrate the fundamentals into your marketing plan visit this page– The Roadmap to Results.

Consideration
Consumers gather facts for consideration such as features, benefits, and price. In order to make an informed decision they must have access to this information. Know where they are looking and provide useful information.

Influence consumers by making sure your solution is not only visible but compelling. Be careful. Emphasis on price might cause a price based decision. Better to come across as a brand they can know, like, and trust.
Consideration Channels
Digital Channels
Digital Content Types
Search Engines
Social Media
Search Results
Articles
Review Sites
Forums
Video
Webinars
Blogs
Websites
Images
Infographics
Video Channels
Image Search
Podcasts
Testimonials
Decision
The moment of truth is when the upside potential is greater than the downside risk. You've already eliminated doubt, fear, and worry by establishing know, like, and trust so all that's left is one simple task. And the act of selling the features and benefits of your product or service can be made easier with digital content and devices. That's what consumers are accustomed to and by doing so you have a far greater chance of success.

Influence the decision by creating visible content that convinces people to know, like, and trust your brand. The best place for them to be at decision time is on your website. Infiltrate their journey, use compelling content to drive them to your site, and use convincing calls to action to aid their decision.
Establish Know, Like, and Trust Here
| | | | |
| --- | --- | --- | --- |
| LinkedIn | BBB | Review Sites | Industry Sites Bio |
| Google Plus | Facebook | Pinterest | YouTube |
| Angies List | Yelp | Your Website | Twitter |
 Purchase
Your consumer has made a decision to purchase. They may not have made a final decision on who to purchase from or which model. Only that they've decided to make the purchase.
It's hard not to notice people using smartphones while shopping, with 79% of smartphone owners doing so. Studies reveal that 84% of these folks use their phone to help them while they're in a store. The most common way they do that is through search, where, also according to studies, they're making comparisons (53%) and seeking promotional offers (39%).
Reading online reviews makes consumers feel smart. And finding a coupon code or a daily deal on the web can sometimes feel like hitting the lottery. If you're not offering a code or a daily deal you should at least make sure there are multiple positive reviews for your company. And having plenty of Google results to drown out the competition wouldn't hurt either. So if you joined your prospect early in the journey. And you're still in full view at the end–chances are you'll close the deal.

Influence the purchase by making sure one last look online doesn't derail the sale. Numerous online reviews along with plenty of Google results keep competitors at bay and are positive reinforcement for your consumer.
Loyalty
Once your consumer has made a decision and a purchase the journey is not over. It's only just begun. Your primary tools in marketing to actual customers transition into email and social media.
 
More to come on Loyalty– stay tuned.