Roadmap To Results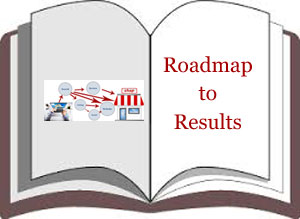 Local consumers are turning to the internet in droves. They're seeking solutions to everyday problems, they're armed with an internet ready device at all times, and they know their best answer is only a click away.
Sometimes the online journey takes them to a variety of websites where they read reviews, watch video, or ask questions. Other times they only want a pizza. One thing is for sure; they're engaging with companies that are easy to find online.
There are usually enough options to satisfy their needs so if you're missing they won't notice. The instantly available options could be as many as 10 so they need to choose. They'll pick 1 that has appeal over 1 that has none. Once they do they become a visitor who is poised to take action.
These local consumers are familiar with the back button. In the same amount of time they'd spend on one phone call they can check out probably 5 companies online. If you're not clearly selling what they're buying it's no big deal, it's just one more click.
We've developed a roadmap so that businesses can be present at every stop of the online journey. The Roadmap to Results is a 10 page guide, illustrated and written in plain English,  that walks you through the process of local online marketing. By following the roadmap you'll develop an effective visibility strategy, drive traffic to your online content, and put the pieces in place to close the deal.
The customer journey looks a lot different than ever before because people know what they want and need. And they also want to interact online with local providers  before, during, and after every transaction. Local companies that meet their customers where they are will gain an advantage over those that don't.
Businesses can't afford to waste time on unproductive schemes and platforms. The Roadmap To Results is based on solid fundamentals. You'll be able to develop an effective strategy to become highly visible, generate traffic, and achieve results.
Use the form below to receive your copy of The Roadmap to Results.
[grwebform wid="380603″ css="on"]