Add it Up; This Total is Powerful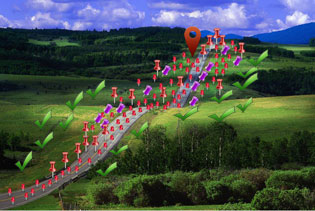 Let me be very clear on the issue of trustworthy content; this is about verifiable detail and not about misrepresentation of facts. Market forces especially on the internet do a terrific policing job on outright lies and false claims. Search engines like Google are in the business of presenting factual data so they want evidence. Who can blame them?
A local business is identified by a name, address, and phone # (NAP). Much of this NAP data is online unbeknownst to the business owner. The data, in many cases comes from old utility records but can also be from any public document such as a court proceeding. A form you filled out for the city inspector could multiply many times causing grief if you or the inspector made a slight error. This NAP data is critical because it is core data and should appear on every website containing content by or about you including every page of your own website.
The search engines are not people so they don't listen to excuses. The data says what it says and is supported by quite a bit of other data or not. If it is well-supported and there is either zero or very little conflicting data the engines will consider it credible and you are on your way to greater visibility. The same rules apply to all content so if 100 websites say you accept credit cards and 100 say you don't then all your content becomes less reliable.
The process of achieving significant visibility is straightforward. Gather and verify all your details, content, and core data and then submit to as many search engines, data providers, websites, etc. as you can find. This image illustrates a solid online footprint – red pins representing accurate content with descriptions of various lengths – purple are more detailed along with images or video – green checks are reviews. Search engines love this footprint and will show it Early and Often.