Unlock Your Online Potential
Activate Your Resources
Small businesses that operate in local markets have advantages that other organizations do not.
Actually any organization, small or large, with a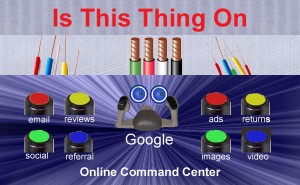 local presence can avail themselves of considerable resources in order to gain online visibility and traffic. Many of these are free while others are low cost. In order for them to work, however, some action needs to be taken.
This list of resources, platforms, devices, tools, and channels is an ongoing work as I'll be adding more useful items over time.
List Your Business
The Big Three are important not only because they attract almost all local searches but because in these search engines you can influence rank. Best practices are to read and follow the guidelines for each.
Create a local Google Plus page
It goes without saying this is the most important local page.
Stake your claim in the Bing Business Portal
Bing accounts for 15% of local search in the U.S.
Be Found on Yahoo! Local
Yahoo! also offers an enhanced listing for a monthly fee.
Data Aggregators collect and distribute core data to platforms, channels, and developers including applications. Accurate information is critical.
Claim or create a listing on Localeze
Claim or create a listing on Infogroup
Claim or create a listing on Axiom
Review platforms such as Yelp, IYP and directories such as YP.com, Superpages, and Merchant Circle are important because they can deliver traffic.
They are a trusted source search engines look to for validation, and consumers go there for reviews and information. Hundreds, possibly thousands, of online directories exist and all will gladly accept your listing.
Here is a Terrific resource from Phil Rozek The Definitive List of Local Search Citations
The process of creating listings which are known as citations involves verifying and distributing your accurate core data. The Local Search Ecosystem illustrates how this works.
Many directories allow for additional content beyond the core data. It's especially important to fill out your profile 100% on the big three and also on any platform that gives you the option. To do that you'll need content so the place to start is The Google Keyword tool.
Using the keyword tool will also help you identify the proper categories to use on local listings. Obviously these are important as you'll want to be found by people looking for the exact thing you do. To determine categories use Mike Blumenthal's Google Places Category Tool